Movies have become consumer products, and tags such as crime, comedy, adventure, epic, action genres are labels to attract consumers' ever higher demands. So films are often crafted into audience genre expectations by producers' chasing illusive ticket sales. In some cases, these narrow pigeon holes limit the commercial success of films that do not easily fit one genre.
Masquerade Hotel (マスカレード·ホテル), a 2019 Japanese movie, marketed as a "crime, detective, drama and mystery," clearly breaks this expectation in this adaptation from Japanese blockbuster writer Keigo Higashino's best-selling novel.
In stark contrast with its success in Japan, which returned nearly 4.6 billion yen ($44 million) in box office, overseas markets like China, which often devour Japanese content, only saw lackluster interest. Netizens complained the movie is not as "adrenaline stimulating" as they looked for, understandably considering some of the bloody and high action crime genre from Japan.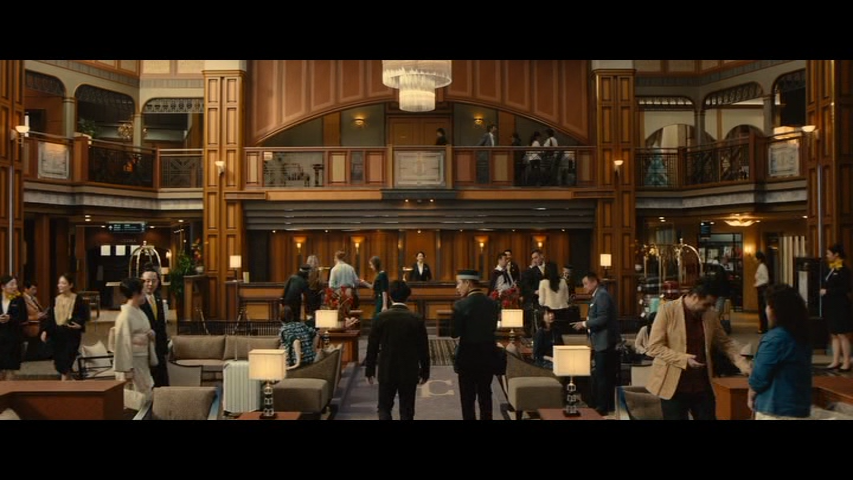 Danse Macabre
Compared with most movies in the crime genre, Masquerade Hotel lacks quick-paced action and swift turning points, however, it aims to explore something deeper. It presents a Yin and Yang of two contradictory viewpoints in exploring strangers' true natures, presented within the microcosm of an investigation into a serial murder case.
To the musical accompaniment of a waltz, the story takes place in the high-profile luxury of Hotel Cortesia Tokyo. It is believed to be the next target of a three-time serial killer who leaves GPS coordinates of his next murder at the scene of each preceding crime. Inspector Kosuke Nitta's (Takuya Kimura), in an effort to catch the killer, goes undercover as a hotel staff where he ends up exploring mysteries of human relationships as well as crime.
The hotel, complicit in the undercover operation, pairs him with the front desk manager Naomi Yamagishi (Masami Nagasawa.) She believes the hotel is a venue for guests to cast off their ordinary selves, wearing a mask in a surreal masquerade. She is exquisitely professional in her manner of serving customers and is fully committed to one principle – to respect guests' preferences and never reveal their true selves under their façade.
With an impending murder, this investigation becomes a "Danse Macabre," a dance with death lead by the two lead characters.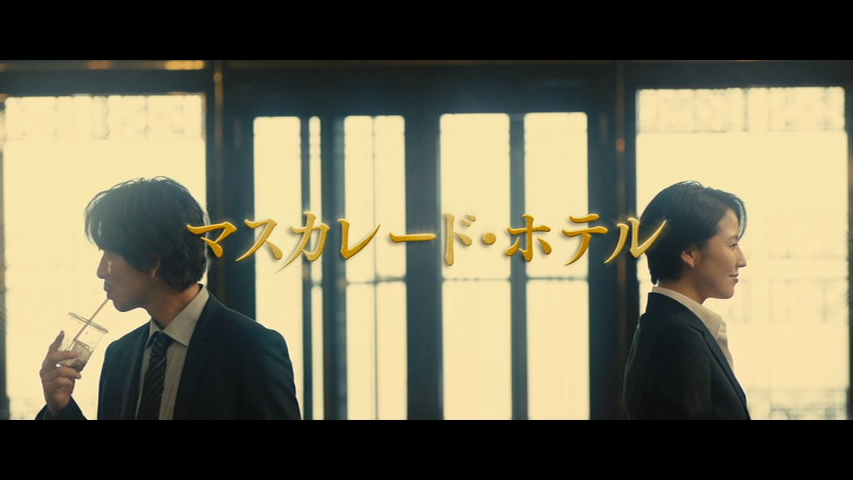 Understated "Rom-Com"
Though the murder plot framework, complete with Agatha Christie-esque trappings, adds a commercial selling point as a crime genre movie, Nitta and Naomi's developing relationship as they explore their widely differing life philosophies, is the gem in this film.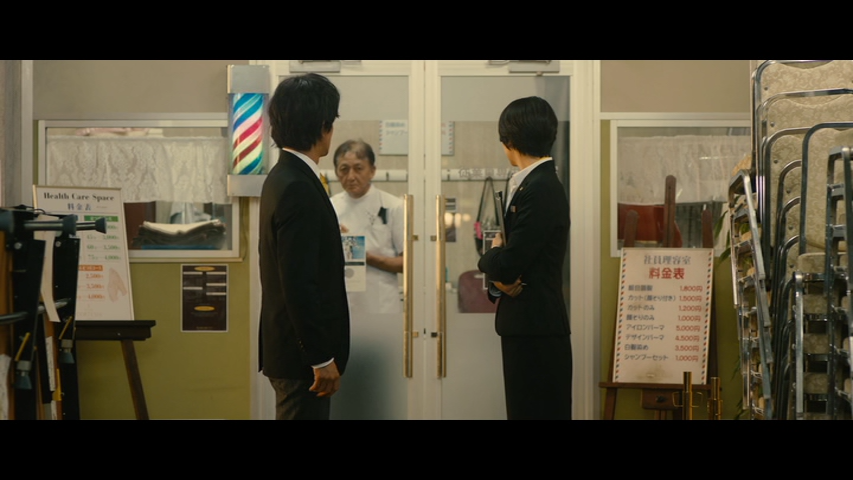 The movie kicks off in an uplifted tone exploring the arrogant Nitta being transformed by hard-headed Naomi to take on a new identity as a professional concierge staff. Their relationship subtly evolves when the concierge Naomi, motivated by customer service, takes on a role as crime investigator and forms an unlikely duo with Nitta to catch the murderer.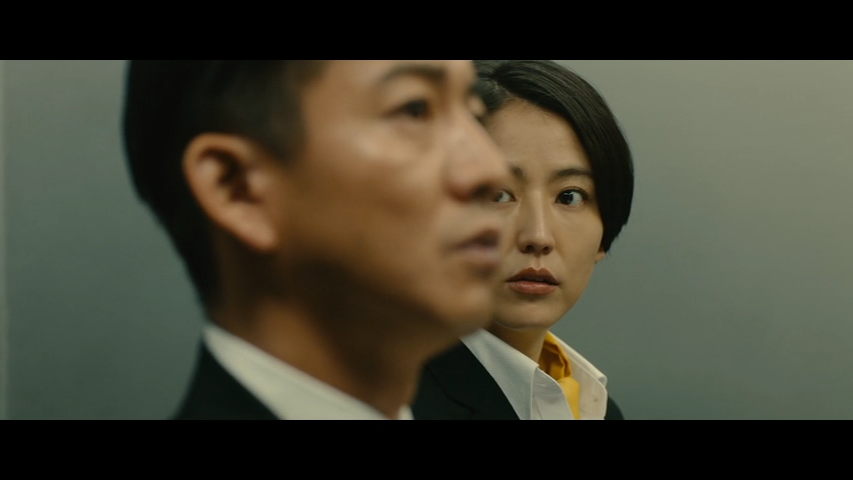 From a debate over hair cut to about how to behave in front of hotel customers, Nitta and Naomi openly cast criticism upon each other, which, surprisingly, develops into genuine trust bond.
Through Naomi's insights from her very different views and provoking insights about the previous serial murders, Nitta gains a new perspective and realizes the police investigation is entirely on a wrong track. The murderer is more clever and the plan more complicated than they imagined.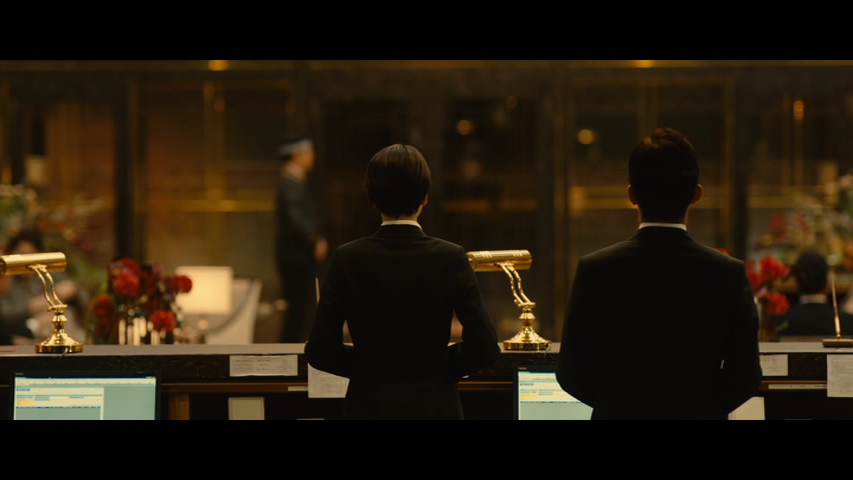 Prior to the climax of revealing the murderer, the film takes introspective interludes exploring Nitta and Naomi's Yin and Yang philosophies. Their opposed viewpoints on life, instead of leading to increased strife, gave each a growth opportunity to explore each others' strengths and weaknesses. They both commit to catching the murderer at all costs. They recognize their roles and responsibilities limit the investigation to something like a dance. In protest, they vow to quit their jobs if they fail to prevent the next murder.
The scene is devoid of environment sound and simply shows the two face at the hotel door in a dark night, talking in low voices which adds to its subtle power. It indicates their newly developed bond in the most challenging moment of their careers.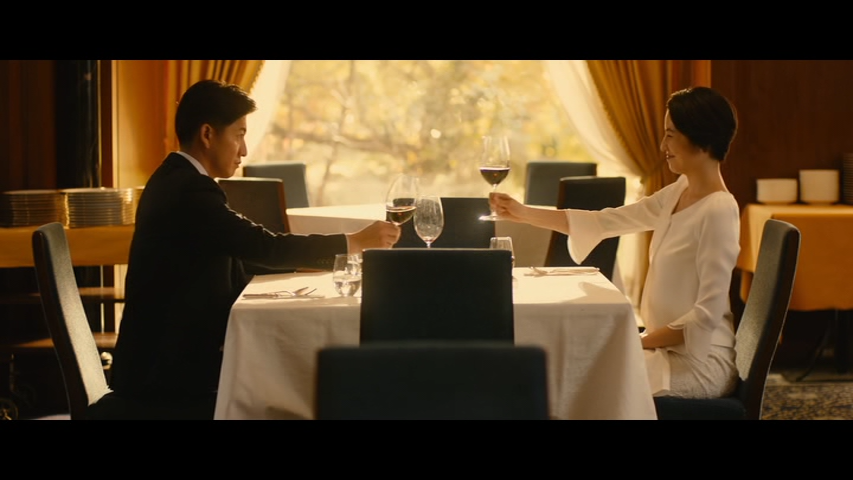 This delightful, genuine, trustworthy relationship adds a warm layer to an otherwise cold-tone detective investigation story, a genre where detectives are often portrayed as psychologically dark, affected by continually delving into the dark side of human nature.
Friendly Warning Prior To Watching
In accordance with the original book as a Japanese-style detective novel (すいりしょうせつ), the movie depends more heavily on the philosophical musing in the main characters' dialogues to discover new clues and solve the investigation.
Additionally, different from usual crimes stories that present never-ending plot twists in shocking tones, this movie is subdued and calm on revealing the murderer and the motives.
For some movie-goers who prefer action over dialogue and desire thrilling chase scenes filled with excitement, this movie will not likely hold their attention.
Aftertaste
"Customers coming to the hotel wear a kind of masquerade and hide their true facade, while hotel staff here comply with a rule of not Tom-peeking guests' real identity. By doing so, guests can find some sense of freedom." said Nitta when he closed the case.
Would one unmask others' truthful intention or rather protect the freedom interpersonally? Answers to this question may be embedded in this welcoming crime story.
After the crime has been solved, the would-be victim saved and justice served, the detective and concierge meet outside their work roles in a romantic dinner dressed in white and black to bring home their Yin and Yang opposition.
It leaves us realizing the real mystery this movie investigated was human nature and the course of the investigation was a developing romance between these two opposites.
Director: Masayuki Suzuki
Screenwriters: Michitaka Okada, Based on novel by Keigo Higashino
Stars: Takuya Kimura, Masami Nagasawa, Takako Matsu, Fumiyo Kohinata, Ryô Katsuji, Katsuhisa Namase, Takashi Ukaji, Ryo Ishibashi
Runtime: 133 mins
Production Companies: Cine Bazar, Fuji Television Network
Distributors: Toho Company(2019, Japan), Sweet Charm Pictures (2019, China),Uni-Film Distribution & Financial (2020, China, theatrical), Pony Canyon International Licensing (2018, world-wide, all media, except Japan)