By Jude Jiang, June 2015
Wang Xiaoshuai's movie, Red Amnesia, presents a modern Chinese family drama centering on an old widow and her estranged children. Then surprisingly, it takes a social tone and cuts deeper to reveal the wounds and guilt held by the elder generation in China, who survived the upheaval of the Cultural Revolution.
Even though the story introduces a mysterious case of harassment of this elderly woman, the story is not structured as a thriller. Instead, it evokes empathy through a slowly evolving family drama, yet Red Amnesia displays a calm insight into the ongoing consequences of the past sins of the former political movement.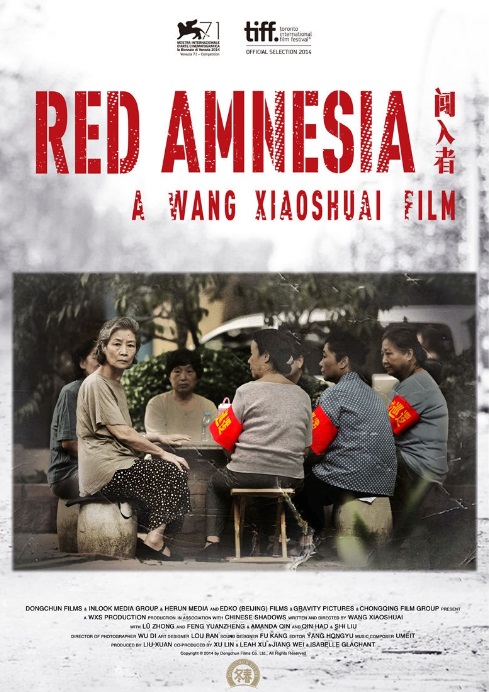 Parental control
In Wang's past film Chongqing Blue (Ri Zhao Chongqing, 2010), after a middle-aged father's son is executed for committing a horrible murder, he seeks understanding of how his son and himself as father, went wrong. In a similar vein to Chongqing Blue, which explores the social effects from absence of fatherhood, Red Amnesia takes on motherhood through an overbearing and controlling dowager struggling to retain control of her clan.
The old widow Lao Deng (Lv Zhong) is a typical retiree in her late 60s who maintains a busy daily routine. She constantly visits her two sons' apartments to cook for them, no matter how unnecessary they think it is. She also takes responsibility for picking up her grandson after school and cares for her ailing mother in a nursing home ward. Through all this activity, she seems to gain neither joy nor satisfaction.
She does so much for her family but they resist and even seem to tacitly resent her continual domineering influence. When she ends her daily routine and returns to her own gloomy apartment, surrounded by memories and relics of the past, she is lonely and isolated. She talks to herself, to the picture of her deceased husband and even his imagined ghost, sitting silently in his former seat at their table.
Even as she forces her presence and influence into the lives of her children, a stranger begins to encroach into her life. Starting with prank phone calls, a series of increasingly disturbing events upset Lao Deng's daily routines and threaten her safety. Though she tries to stay in the elder son's (Feng Yuanzheng) fancy apartment for her security, the harassing calls continue. When the unseen intruder [the literal translation of the movie title in Chinese is The Intruder] dumps a mound of trash to spill into their apartment upon opening the door, Deng's daughter-in-law (Qin Hailu) blames the old woman as the cause. Unwilling to endure being accused, Lao Deng, filled with self-righteous anger, returns to her apartment. Ultimately, she is willing to face the threat of harassment on her own.
A multi-level mystery
Even as she faces the danger from a potential stalker, the film does not overly rely on the suspense element nor does it rush to unravel the mystery. Instead, it takes us deeper into the mundane daily issues in her life that she faces, yet can not seem to solve. We see that her frustration with her family even outweighs her concern for her safety. For instance she's upset that her younger son (Qin Hao) is a homosexual, she is frustrated that her mother is unhappy with the nursing home ward and she is discouraged that her daughter-in-law always quarrels with her.
"The time is different from the past now", she complains to her deceased husband. As her over-bearing motherhood leads to naught for both her and her family, she realizes how little impact she truly has. It is in the face of this realization that she lets down her guard and invites a stranger, an intruder, into her home, in part, because he says he came from her former cultural revolution factory.
It turns out that the intruder was the source of the harassment and a wanted criminal for several other break-ins and a murder. He tears apart Lao Deng's family pictures when he was left alone in the home. She does not see this as a normal robbery or theft. Instead, she believes that it was retribution from the ghost of a recently deceased villager, whom she back-stabbed in the past.
This time, she doesn't seek aid from police or her family. Rather than seeking out and confronting her physical antagonist, she takes a trip to the factory village in Guiyang, Guizhou Province to visit the family of the man she wronged in the Cultural Revolution days. Here she seeks to confront her true antagonist – her own guilt.
Seeking redemption
One of her former village co-workers and their family greet her on her pilgrimage to the site of her past dark deed. Here we learn that she wrongly betrayed a villager, condemning his family to suffer, so that she could take her own family to safety in Beijing. After so many years, she finally faces these people who lacked her chance to leave the impoverished village to make a better life like she did.
Her host doesn't seem to hold any grudge but returning to this village brings her face-to-face with the images of the past that still torture her dreams. Therefore, when she goes to the family she sabotaged to apologize, she is shocked that it is rejected and met with a slap to her face. She receives an even stronger blow when she sees that the grandson (Shi Liu) looking out the window is the intruder himself. At that moment, she understands that all of the harassment she faced, was brought upon herself as the cost of her misdeed.
This encounter totally unsettles Lao Deng and puts all her plans asunder. She oddly does not seek to call the authorities on the boy. Unable to come to terms with the victims of her past wrongs, she is left to seek redemption on her own.
In the past, Lao Deng made a hard decision to do whatever it took to protect her family, right or wrong. Here, she makes another strong decision. As she wanders the village of her past, she hears police sirens. In this moment, her motherly instinct calls on her to protect this boy she never even knew she had wronged. As the police try to navigate the narrow, almost labyrinthine, twisting lanes to relentlessly pursue the fugitive boy and bring him to justice, Lao Deng runs up the steep back alleys to warn the boy.
Red Amnesia may come across as fragmented elements fused together. Nonetheless, it remains a serious social study and perhaps Wang's most critical film. It doesn't pretend to be a thriller but rather, offers an earnest commitment to interpret an elder person's story, while actually revealing a collective guilt borne by so many of those that witnessed the Cultural Revolution and are still coming to terms with its results.
| | |
| --- | --- |
| Film: | Red Amnesia 《闯入者》 |
| Director: | WANG Xiaoshuai 王小帅 |
| Starring: | LV Zhong 吕中,QIN Hailu 秦海璐、QIN Hao 秦昊、FENG Yuanzheng 冯远征、SHI Liu 石榴 |
| Screen Writers: | WANG Xiaoshuai 王小帅;FANG Lei 方镭;LI Fei 李非 |
| Cinematographer: | WU Di 邬迪 |
| Producer: | Liu Xuan 刘璇 |
| Production Company: | Dongchun Films 冬春文化 |
| Distributors: | Dongchun Films 冬春文化, Inlook Media 银润传媒, Herun Media 合润传媒, Edko Films 安乐电影,WXS Productions 引力影视投资, Chongqing Film Group 重庆电影集团, Golden Village Pictures [Singapore] |
| Budget (estimated): | Not available |
| Release Date: | 30 April 2015 (China)、11 November 2014 (USA) |
| Length: | 110 min. |
| Genres: | Crime/Thriller |